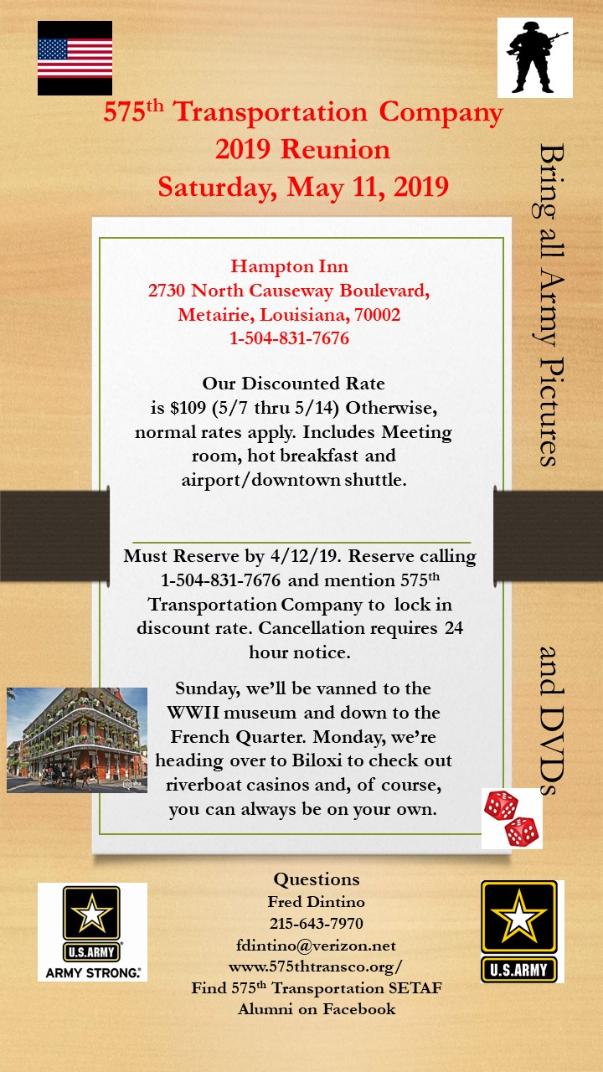 Our 2019 reunion plans have been finalized and New Orleans is the location.
As always, everyone is invited to the reunion including spouses and family members.
Following our meeting on Saturday, May 11, is our group dinner. Next day, we'll see the World War II Museum followed by a trip down to the French Quarter. Tom Tatum will van us around in a 19 passenger van. He'll also be taking us to Biloxi on Monday, May 13 for sightseeing, shopping and casinos. See the flyer for details. Of course, the activities are optional.
Our Hampton Inn is about 7 miles from the airport and they provide airport shuttles. They also provide daily shuttles to the French Quarter.
We certainly hope to see everyone and to make this our biggest and best reunion. Bring pictures and your best Vicenza story!
See you in New Orleans.
Fred Dintino / 66 - 68 Company Clerk
DALLAS 2010
(1st Bi-Annual Reunion)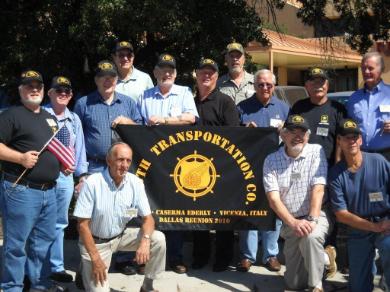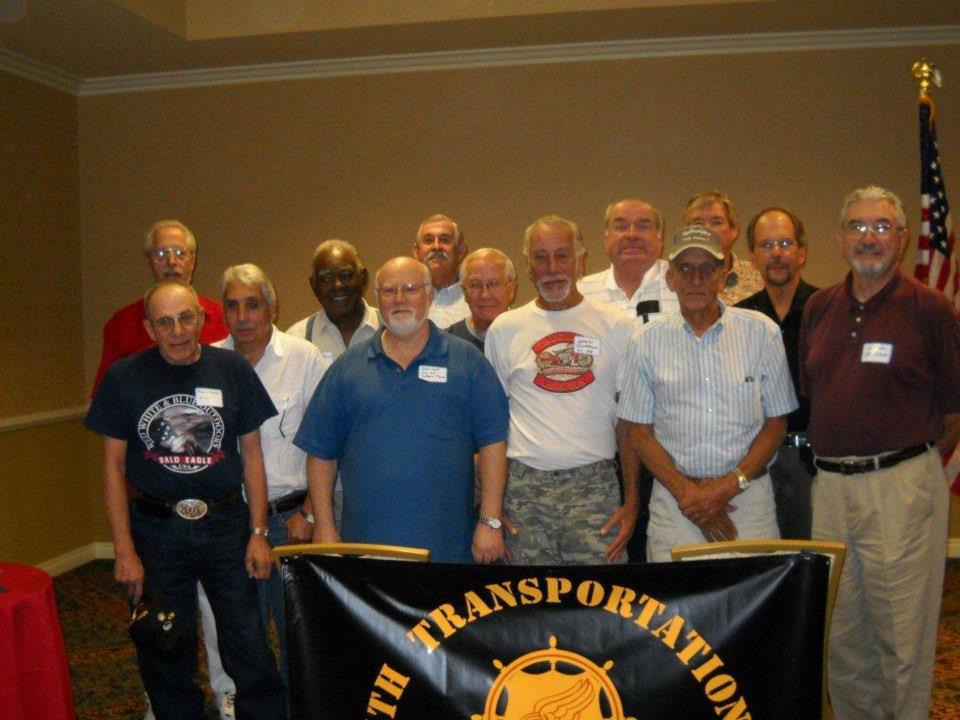 Reunion Attendees For Charleston, 2014:
Conti, Dintino, Bartkowski, Klonecki, Lihan, Stewart, Tatum, Zeipelt, Manus, Heemstra, Hall, Hayhurst, Beavers, Christiano, Seymore, Campbell (Sam). Support Team: Tatum Jr. & Scott Farrell.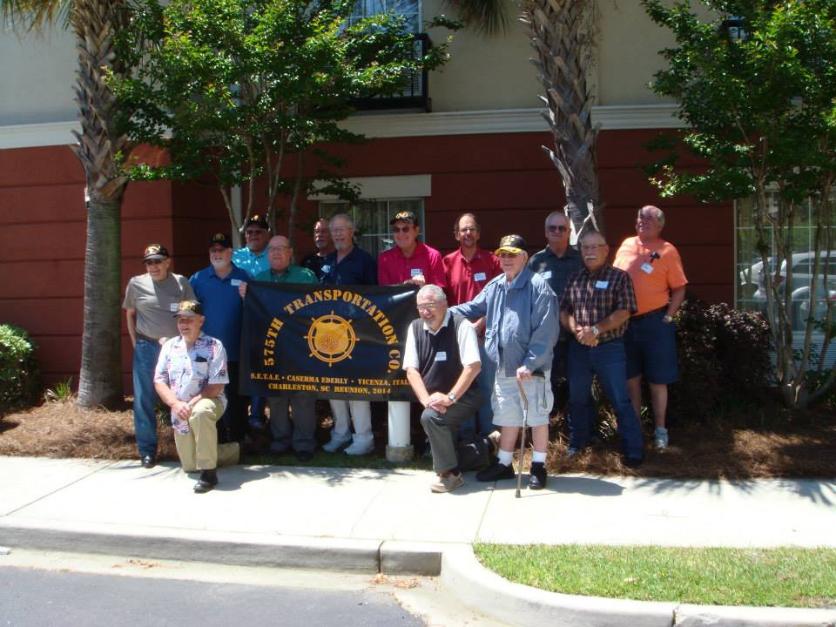 HARTFORD 2016 ATTENDEES
Wayne Hall, Bob Stewart, Bob Lihan, Don Asselin, Michael Christiano, Jim Zeipelt,
Chet Bartkowski, Jack Conti, Mike Onacilla,
Fred Dintino, Tom Tatum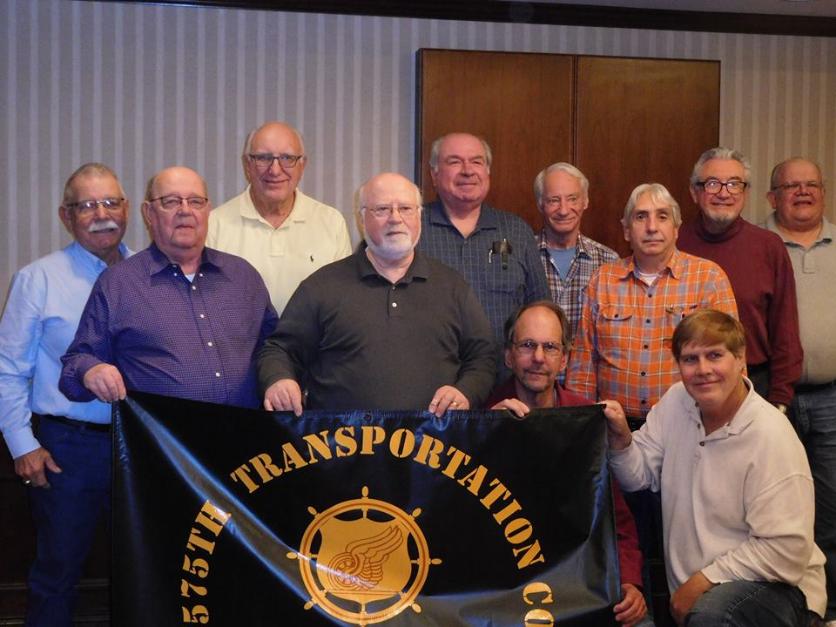 BRANSON 2017
-- REUNION ATTENDEES --
Jack Conti, Robert Stewart, Fred Dintino, Richard Franzen,
Chet Bartkowski and Thomas Tatum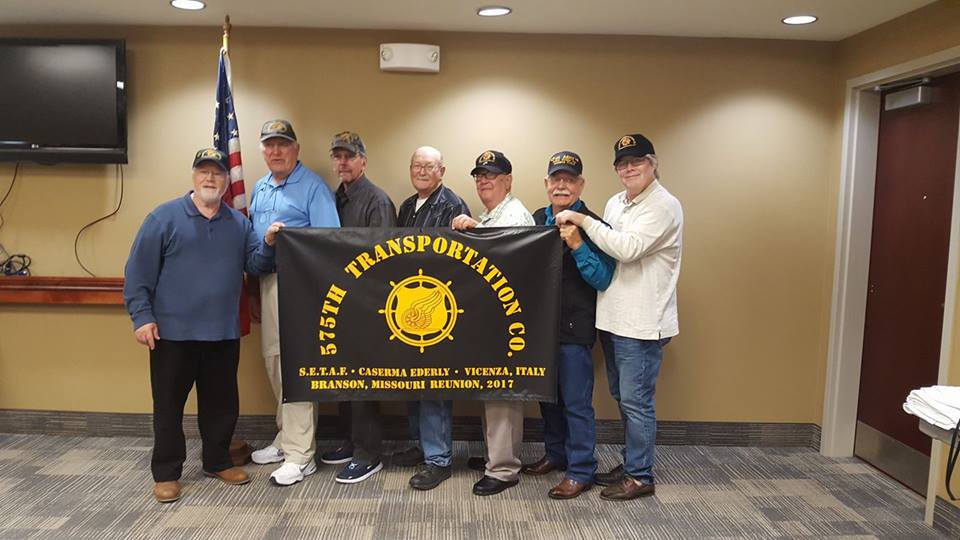 Privacy Policy: 2011 575th Transportation Co. SETAF - All Rights Reserved - RJ Design olbobh@gmail.com