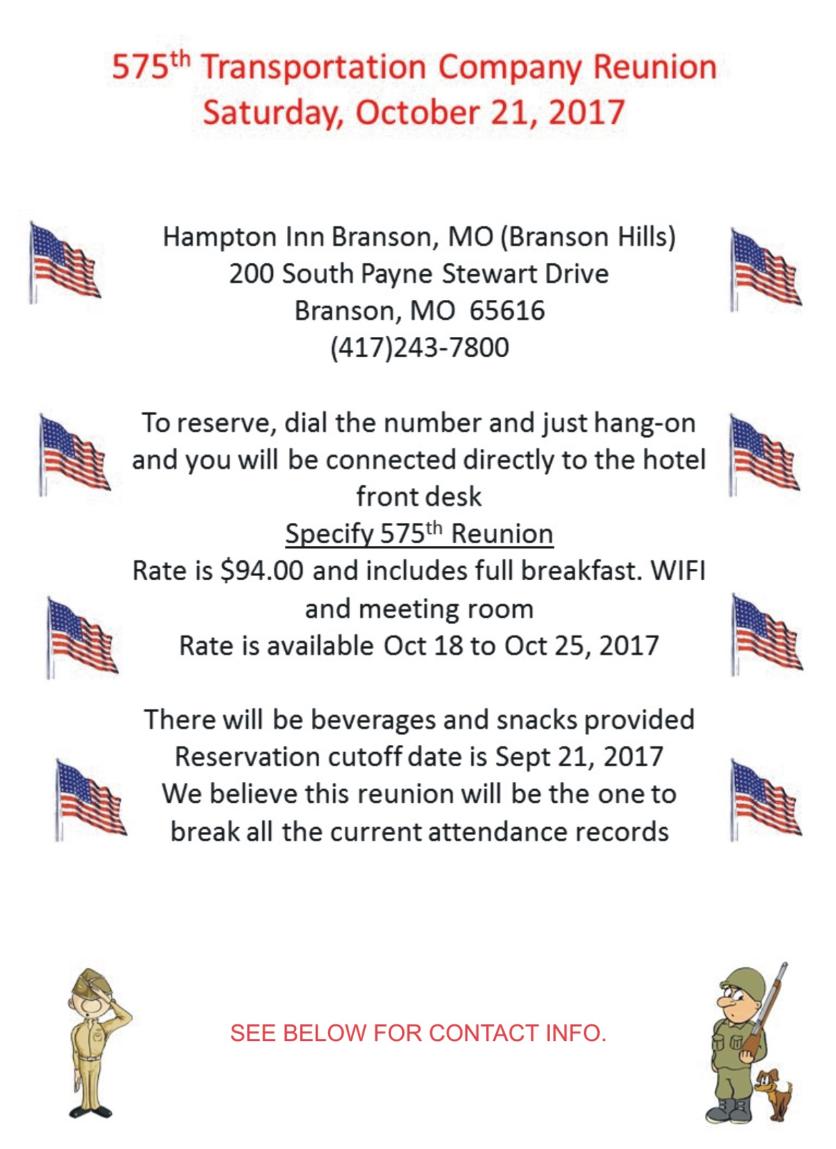 Hopeful Attendees for our 2017 Reunion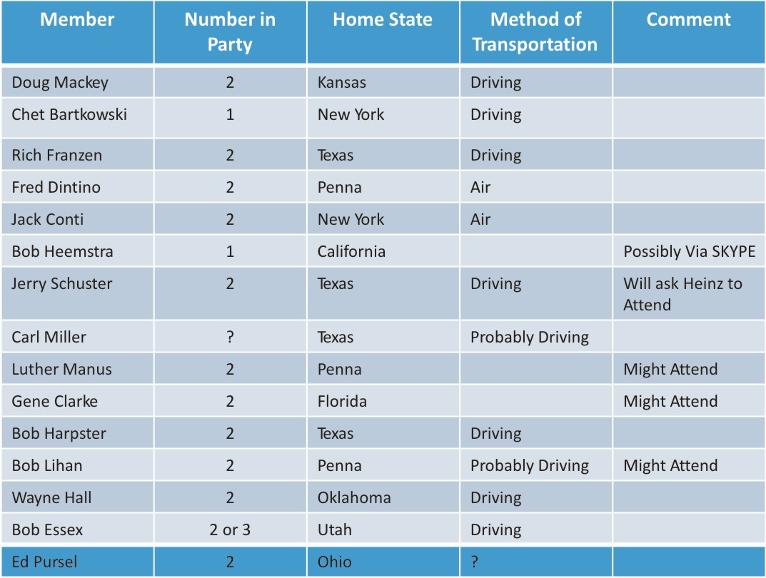 !! REUNION INFORMATION UPDATE !!
Buongiorno a tutti and greetings to all
A look at the calendar tells us our next reunion is
only three months away
. Now is the time to make reservations in order to get the flights and/or accommodations that are best for you. As previously stated our 2017 reunion plans are finalized. In short, expect to spend a pleasant/exciting weekend in Branson, MO for our fifth (5
th
) 575
th
Trans. Co reunion along with two outings to key attractions. Some of us will arrive
on Thursday
to begin the festivities early and if the group wishes, we could make arrangements for us to get together Friday night at some local restaurant to renew our friendships and kindred spirits.
Friday and
Monday
are open days meaning we'll go out in small groups to whatever suits our fancy. There could also be some
Tuesday
outings depending on what folks are remaining. Tom Tatum will have a van and has volunteered to take folks around. We have the Branson Landing with over 100 shops, there is a Tanger Outlet, Ziplines, National Tiger Sanctuary, Golf Courses, wine country tours, a slew of other shows that a small group could see, a slew of craft shops, etc.
We'll meet in the newly remodeled Hampton Inn conference room,
Saturday, October 21st
at 1000 hours. Details for reserving are contained in the attached flyer. As usual, bring you best Vicenza story and enjoy a brief slide show of photos and some 67 -68 super eight movies that haven't been seen in decades. Beer, wine, soda and nibbles will be provided. Please bring any photos you may have. We always enjoy seeing new ones.
After the reunion activities of Sat morning and Sat afternoon we want to give folks some time to recover and refresh themselves for the first big event of our reunion. So, our first outing that follows the reunion will be a diner show at Dolly Parton's Dixie Stampede. Around 1920 (
7:20 PM
) we'll leave for the 2000 (
8:00 PM
) showing.
This Sat
will be the only day and time for this great show as they will close afterwards for a short period in preparation for Christmas trimmings. Our staff has negotiated a special rate and seating.
Cost is $46.86 per person.
For this activity, we'll rideshare by taking our own vehicles plus a van for extra room. Video, photography & recording for this show is not permitted.
All costs we will tell you about all include tax per person. In addition we will also get premier seating and some special planned excitement for our group. The food and show is said to be outstanding. For the Dixie Stampede as a group we also qualify for a boot mug special at the pre-order rate of $4.00 per mug, or the new hurricane glasses at $4.50 per glass which also include a free specialty beverage served to complete our pre-show experience. We would like to be able to preorder these so please let us know if you are interested. The following link provides more details.
The next day, the 22th, to ensure everyone has ample time to recover from the previous nights excitement and the lavish Breakfast at the Hampton that morning, we have planned our next event which is the famous Duck boats (vintage WWII). The Duck will pick us up at the hotel at 1330 and will take us on a land and water tour of Branson.
We will then be delivered by the Duck to the Showboat Branson Belle, for a cruise on the lake and another great dinner and show. The duck boats will also return us to the hotel. The cost for the Duck is $31.50 per person.
The Showboat Branson Belle will have a dinner/show with ample time to enjoy yourself for the 2.5 hours paddle boat cruise, dinner and show that is timed to arrive back at the landing for the nightly "flame" show. Boarding begins at 1530 hours. The cost for the Branson Showboat Belle is $48.15 per person which again includes taxes and in this case gratuities. After the Showboat, the Duck will return after the show and cruise and pick us up for the return trip to the hotel.
The Showboat Belle link follows:
For other neat things Branson has to offer, check out:
Please respond by letting me know which activity (hopefully both) and the number of people. This is paramount for us to negotiate preferential treatment.
The parameters for the reservations that you will commit to are consistent for all activities. Rates apply to a group of 15 or more paid admissions. Final count and Payment is due 15 September 2017. There is a 72 hour cancellation policy. Cancellations must be faxed and verbally confirmed to the Group Sales and No- Shows are considered sold seats and will be charged in full.
Tom Jr. will be our Money Man and will handle all of the deposits and payments for all scheduled events. This works best for the various shows and dinners. Please make your check payable to Thomas Tatum and mail to PO Box 50011 Summerville, SC 29485. For clarification the cost, per person, is as follows:
To attend only the Stampede dinner show is $48.86 plus $4.00 or $4.50 for the mug or glass
To attend only the duck tour and paddle boat cruise, dinner and show is $79.65
To attend both outings, the cost is $128.51 per person plus $4.00 or $4.50 for the mug or glass
Both outings are offered to us at a discounted cost negotiated by our staff. However, as much as we'd like for everyone to attend, they are entirely optional meaning you may attend both, only one or neither.
Everyone, and that means vets, family members and friends are invited to join us in Branson.
Fred Dintino
REMEMBER TO CHECK YOUR E-MAIL INBOX AT LEAST ONCE A WEEK
FOR THE LATEST UPDATES FROM FRED DINTINO
HARTFORD 2016 ATTENDEES
Wayne Hall, Bob Stewart, Bob Lihan, Don Asselin, Michael Christiano, Jim Zeipelt,
Chet Bartkowski, Jack Conti, Mike Onacilla,
Fred Dintino, Tom Tatum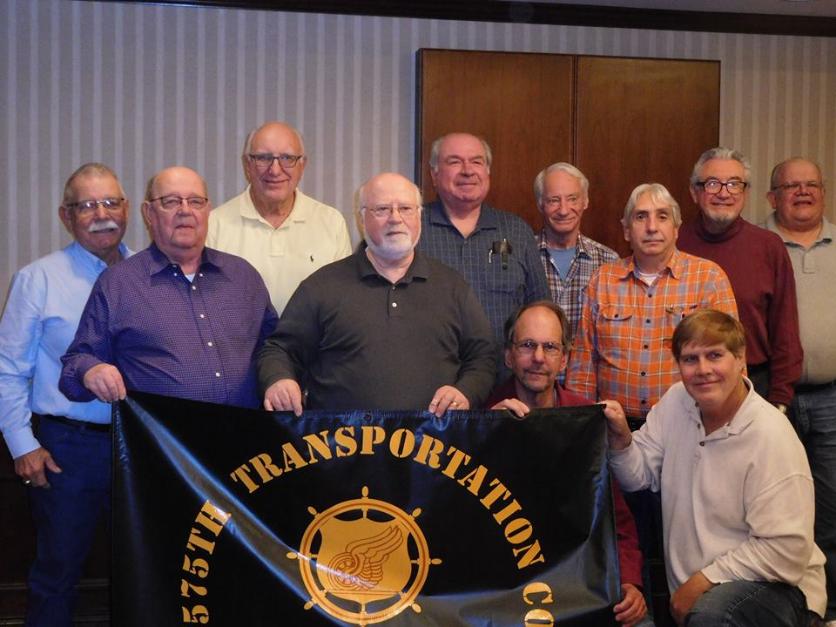 DALLAS 2010
(1st Bi-Annual Reunion)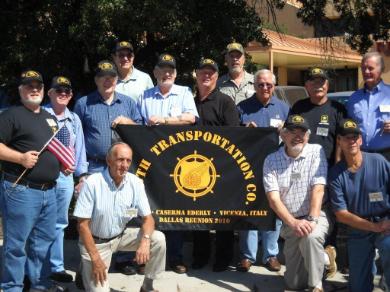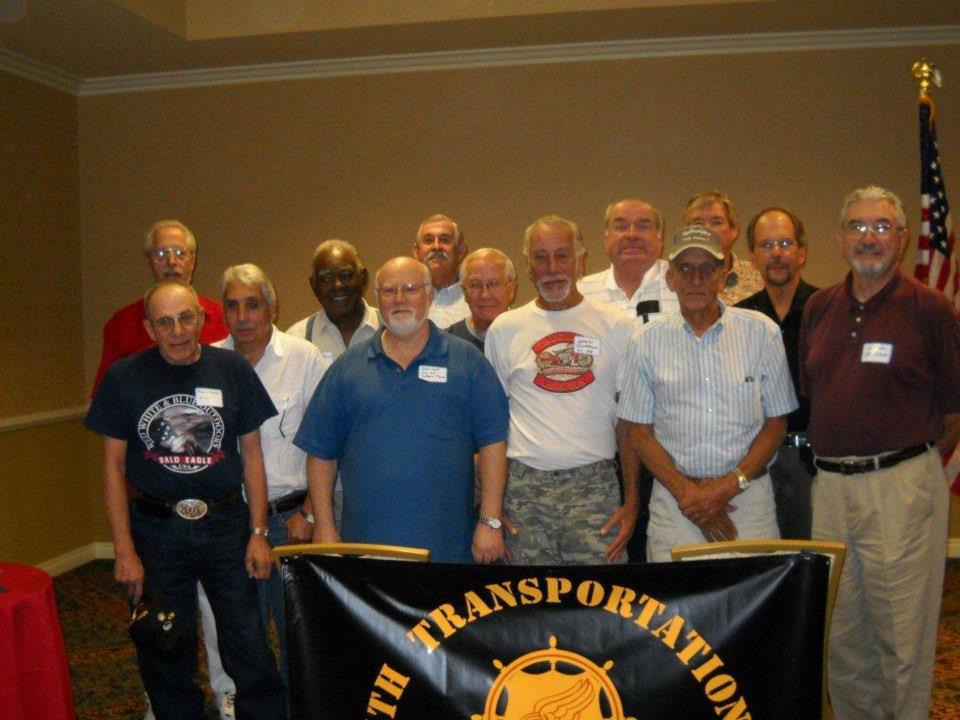 Reunion Attendees For Charleston, 2014:
Conti, Dintino, Bartkowski, Klonecki, Lihan, Stewart, Tatum, Zeipelt, Manus, Heemstra, Hall, Hayhurst, Beavers, Christiano, Seymore, Campbell (Sam). Support Team: Tatum Jr. & Scott Farrell.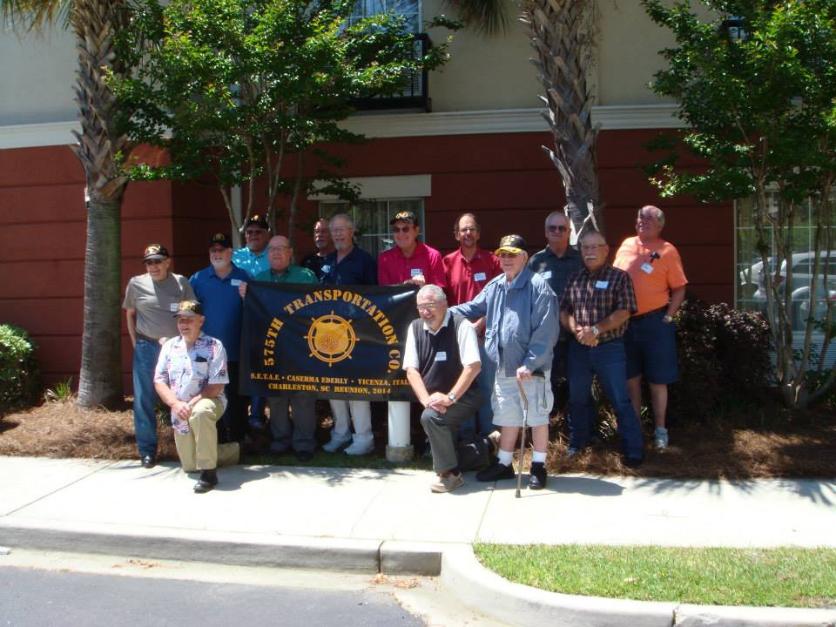 Privacy Policy: 2011 575th Transportation Co. SETAF - All Rights Reserved - RJ Design olbobh@gmail.com